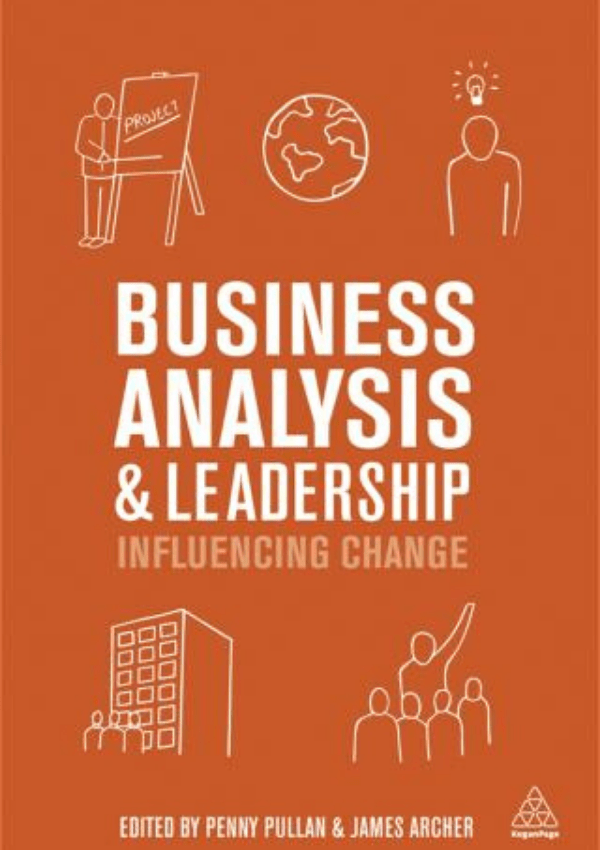 Business Analysis and Leadership: Influencing Change
Do you work with business change?
Do you strive to understand organizations undergoing change, define what's needed and deliver value?
Do you work towards the delivery of real and lasting benefits?
Then this new book and website is for you! Please have a look around and join in the conversation. You can click on the pictures below for a quick overview, use the menu above for a more in-depth look and sign up to the right to hear more about business analysis and leadership occasionally and when we release new resources. Thank you!
Are you already a book buyer?

Get more support and resources for your business analysis leadership from Penny Pullan.
We promise to protect your privacy. Your data will be stored by Penny's company, Making Projects Work Ltd. You can find out the details in our privacy policy. By signing up, you consent to receiving updates by e-mail from me, Penny Pullan, with tips, ideas and resources for making your workshops work, which may occasionally include promotion for my related events and products. You can of course unsubscribe at any time.
If you'd like to purchase a copy, you can do so here. Please do access our supporting resources too.
This inspirational book consists of contributions from leading thinkers and practitioners in business analysis around the world, blending together a wide range of perspectives. Their case studies and practical advice will support you in becoming an outstanding influencer of change. Topics covered include:
facilitative leadership
working with the project manager
dealing with difficult stakeholders
the iterative business analyst
global working and virtual teams
systems thinking
power and politics
strategic thinking
becoming a thought leader
ethics, professionalization and best practice
developing your skills, and the courage to apply them
communication and negotiation
Whatever your job title, if you are involved in business analysis in any way, you will find this book and this website invaluable.
The book takes a framework for leadership, starting off with a focus on the self, then leading within your project, then moving out to leading across your organization and, finally, leading in the wider world. Here's the picture:
Self
The book starts off by exploring how you can work on yourself to become a leader, with contributions on:
Skills
Courage
Facilitative leadership
Communication
This section concludes with a question: 'Are you waiting to be annointed?
Project
The next section looks at all aspects of leadership within your own project:
Working with project managers
Difficult stakeholders
Facilitation
Problems
Visual thinking
Design thinking
Agile
Patterns
Uncertainty
Creativity
Organization
Effective business analysis deals more widely than just the project, so leadership across the organization is important. We look at:
Operating effectively
Context, climate and culture
Global working
Systems thinking
Power and Politics
Partnering
Strategic thinking
The section ends with an opinion piece entitled: 'Leading from the Middle'
In the wider world
The best business analysts will have a reach well beyond their organizations. You can read more in this section about:
The leadership role
Thought leadership
Ethics and fair process
Professionalization
The section ends with an inspiring piece about being a change agent and an endpiece story, which integrates business analysis, creativity and play.
DR PENNY PULLAN
The majority of Penny's work is with people in large organizations who are grappling with tricky projects and programmes of change. Many of these are working in business analysis, influencing and enabling successful change in tricky situations. This means:
changing, complex, and often ambiguous, requirements;
a complex and usually culturally diverse mix of stakeholders, who need to be interested, engaged and involved;
probably team members dispersed all over the world;
lots of risk!
Within this context, Penny brings order and clarity, providing support and tools to develop the leadership skills necessary for effective business change.
Penny has twenty years experience across many multinational companies and the consultancy she founded, Making Projects Work Ltd. She hosts the free, global, virtual Business Analysis Summit www.basummit.com in November each year, which is attended by thousands of business analysts, and helps to organize the annual Business Analysis Conference Europe.
Penny contributed chapters on Facilitation, Global Working and Virtual Teams, Developing Thought Leadership, Visual Thinking and Dealing with Uncertainty to this book. Penny supports business analysts and other project professionals to develop their skills in these areas through her innovation Facilitation Skills Course for Project Professionals, her Virtual Working Open Programmes, her Outstanding Outsider programme for contractor business analysts, her Graphics Made Easy starter workshops with Vanessa Randle and her Virtual Risk Facilitation Programme with Ruth Murray-Webster.
She has a PhD from Cambridge University, is a Certified Professional Facilitator and has multiple qualifications in business analysis, project and programme management, as well as being a Chartered Engineer.
[email protected] | +44 (0)1509 821691
The story of how the book came into being

Penny Pullan tells the story.
"Early in 2012, Kogan Page contacted me with the idea of a book about Business Analysis. My instant reaction was: 'Book – what a lot of work!', closely followed by: 'What an honour to be invited to write a book by a publisher!' It took a while to reconcile the two, but talking with friends in the business analysis world convinced me that
we could produce a better book by working together. The particular focus of the book would be leadership, surely a key skill for any effective business analyst?
I asked James Archer if he would be prepared to co-edit a book with me and bounced a lot of ideas off Emma Langman, who helped me to finalise the leadership framework I had in mind. We worked closely with our commissioning editor, Julia, who was brave enough to come along to an IIBA UK event in an underground bar in the City of London. It was packed out with around 150 business analysts attending. I think that convinced her that there was a potential audience for the book!
Then the hard work started. James and I had to think of leadership topics pertinent to the BA role and spread them over the four levels of our leadership framework (self, project, organisation and the wider world). Once we had the topics, we needed to choose the best person to write each chapter. The chapters needed to be short and useful, as BAs are busy people without much time to spare! Luckily, we had a marvellous set of authors and almost everyone said 'Yes!'. In the autumn of 2012, chapters began to come in and the book began to take shape. James and I each wrote several chapters and web resources too.
The trouble with Business Analysts can be that they really want to come up with a really great solution. This happened to us editors as well! We ended up exceeding the inital word-limit by half as much again. Admittedly this wasn't just our fault. Our authors had so much great stuff to say about their chapters that they consistently blew their word limits too. In the end, our long-suffering editor Julia agreed and increased word length. Kogan Page designed the book really cleverly, choosing a font that allowed many more words per page than normal, while keeping a really clear and easy to read look.
As well as blowing our word-limit, we blew our timescales too. I think that publishers expect that as they managed to cope with a three month delay in receiving the manuscript (well, really files on DropBox!) and still delivered the printed books on time in September 2013.
So, now as I write this in September 2013, the book is complete and we're developing this website to provide a great resource to complement the book. In addition, we're bringing together programmes to help business analysts to develop their own leadership, as well as leadership qualities across their BA practices. Our biggest hope is to create a conversation about the role of the BA and to inspire people to aim to lead themselves, their projects, across their organisations and even into the wider world!"
This page contains a growing range of resources for business analysis leadership of self, project, organization and within the wider world.
LinkedIn Group for discussions around Business Analysis and Leadership
We've created a LinkedIn Group called Business Analysis and Leadership.
The group is open to all and just starting out, so please do feel free to join in.
Chapters for the web:
Leadership of Self
Leadership of Project
Five questions of an effective negotiator by Michael Brown here
Leadership of Organization
Modelling the Business by Penny Pullan here
Leadership in the Wider World
People-oriented approaches by Nick de Voil here
Virtual Business Analysis and Leadership Summit
Each year, our co-editor Penny Pullan runs a virtual summit on Business Analysis and Leadership. You can find out more at the Business Analysis Summit website, where you can sign up for free.
+44 (0) 1509 821691
© 2020 Penny Pullan & Making Projects Work |
Ludlow House, 1 Cumberland Road, Loughborough,
LE11 5DE, UK.